Extreme Makeovers


No matter how distorted your teeth make your smile look, there is a way to improve your smile, your comfort, and your function. Here a few of the more dramatic changes we have accomplished at the Center for Complex dentistry.
This lady had been hiding her smile for years, wearing old, broken, worn dentures. She came to our office with implants in place, but in poor position for supporting a restoration. By construction of custom made posts to alter the direction of the implants, a fixed device could be constructed leaving her palate uncovered, and her smile... well, just compare.
The next patient had worn his upper teeth down to the gum line. He had lost his smile and much of the functional aspects of these teeth. With crowns and bridges we were able to restore his smile and function.
This lady presented without the teeth on the left side, she had lost teeth under her old fixed bridge, and the lack of back tooth support resulted in a lack of space for a new restoration. With a combination of tooth and implant supported crowns we were able to restore the space she lost and give her back her smile and function.
Here is a case with extreme break down of the teeth due to decay, and the soft tissues (gums) due to periodontal inflammation. Almost every tooth was preserved, the smile restored, and the soft tissues have become healthy in spite of less than perfect hygiene.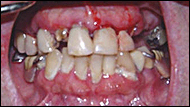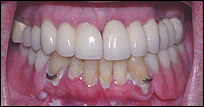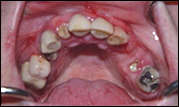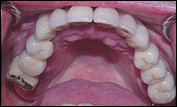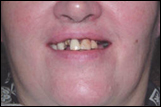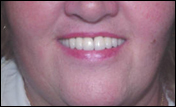 After 17 years of avoiding dental care due to fear and the embarrasment she felt in dental offices, our supportive enviornment allowed her to complete treatment. By constructing a new upper denture and a mini implant retained lower denture, we established functional teeth that properly supported her face, and gave her a youthful, great smile. When they saw her, her sister cried and her fiance wanted to know if she would dump him, now that she was so beautiful.