Tidbits for Dentists
Thoughts on Posts and Crowns
Drs. Morgano and Brackett, (Foundation restorations in fixed prosthodontics: Current knowledge and future needs, J Pros Dent, Dec 1999 vol #82: 643—657) reinforce several interesting points related to posts and crowns.
Regardless of the material used for the post and core, the transmission of occlusal forces is at the junction of the post and core. Depending on the rigidity of the material this stress can have several serious consequences.If the post bends, the crown margins will open resulting in caries. With a more rigid post, this stress can result in cementation failure, or post and/or tooth fracture.
A simple design feature in crown preparation can virtually eliminate this stress on the post and adjacent tooth structure . The ferrule effect occurs when the crown preparation extends 2mm beyond the base of the post. This reduces the spreading forces of the post on the root, and the stress on the junction of post and core. In order to extend the preparation this far beyond the junction point of the post and core, and not compromise the periodontal apparatus, you should maintain as much tooth structure as possible.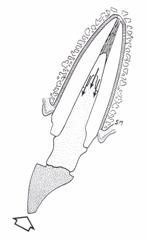 Successful post cementation can be affected by the method of cement application. If cement is placed only on the post, the air escaping from the canal mixes with the cement and decreases its density and strength. By placing cement in both the canal and on the post, the trapped air is essentially eliminated. Due to the dangers of the composite cements setting quickly, using them in this manner may not allow complete seating of the post. Traditional cements such as ZOP may be indicated for post cementation. There has been no research to show that properly designed posts are better retained by any specific type of cement.